Traffic Countdown Timer
Traffic Countdown Timer
The countdown can not only be used alone but also can be used in conjunction with some 200mm and 300mm signal lights. This design can save costs. There is no need to purchase a separate countdown or a set of 200mm or 300mm full-screen signal lights.
Let me introduce the features of the countdown first.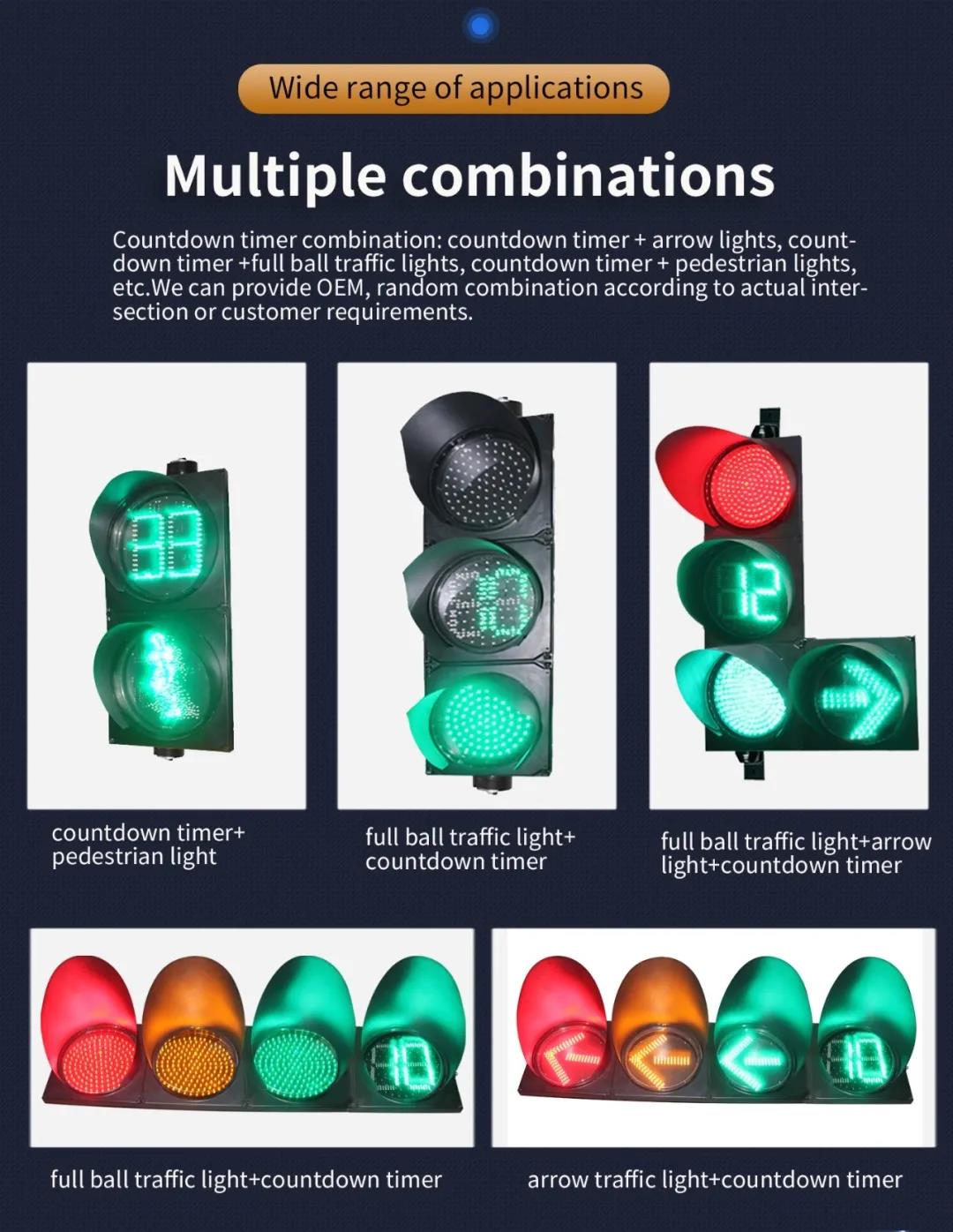 5.NobTra countdown timer series traffic lights have a variety of housings to meet the needs of different application scenarios. Among them, the 200MM, 300MM, and 400MM countdown timer shells are made of PC material with lightweight, high hardness, and high flexibility; it is fully sealed with UV-resistant silicone and will not leak water. The whole countdown timer is light in weight and easy to install. The 500MM countdown timer uses high-quality aluminum profiles, one-time die-cast aluminum, strong and durable, suitable for all kinds of bad weather.
6.The aluminum sunshade avoids direct sunlight to affect the color of light. The high-temperature electrostatic powder spraying process is adopted, which is not rusty and not easy to oxidize. The material is resistant to high temperature, severe cold, deformation, aging, waterproof and moisture-proof.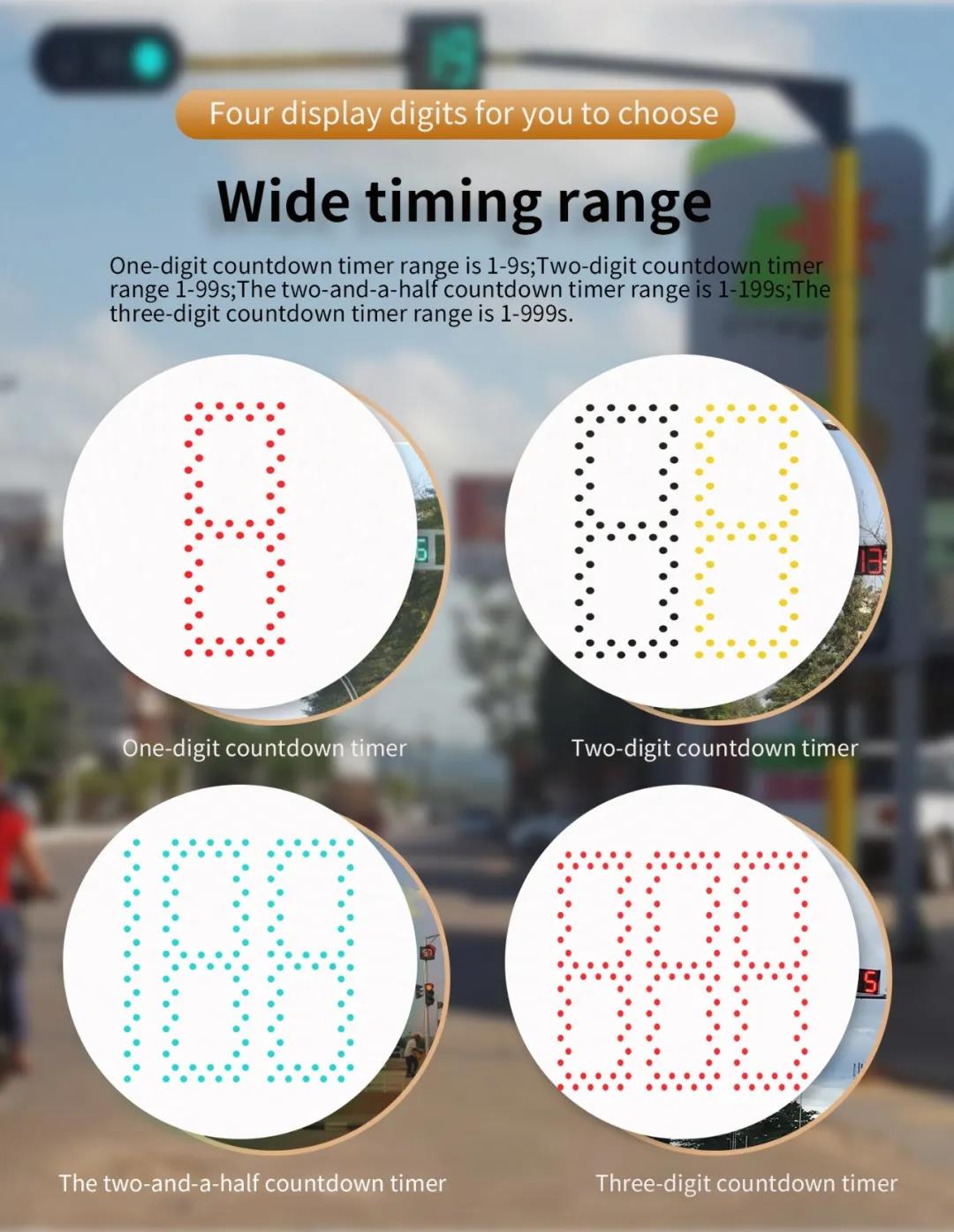 7.Wide timing range: One-digit countdown timer range is 1-9s;
Two-digit 500 mm Traffic Countdown Timer timing range 1-99s;
The two-and-a-half countdown timer timing range is 1-199s;
The three-digit countdown timer timing range is 1-999s.
8. Countdown timer combination: countdown timer + arrow lights, countdown timer +full ball traffic lights, countdown timer + pedestrian lights, etc.We can provide OEM, random combinations according to actual intersection or customer requirements.
9.200MM,300MM,400MM series countdown timer Water resistant to IP65 can be fully qualified for all kinds of snow, humidity, and other harsh environments, easy to install, long life, maintenance-free, allowing you to use more peace of mind. 500 mm Traffic Countdown Timer series countdown timer water-resistant to IP54,can be used in outdoor environments
10.Working normally at the temperature of-40~+60℃, avoiding the normal operation of the product due to the change of ambient temperature.
11.Support cantilever installation and column installation to meet the needs of different installation and setting methods.
Please pay attention to the following points during installation and use of lamps:
1. Do not hit or press it with objects;
2. Handle with care during transportation and installation;
3. Do not move this product at will when the power is on;
4. No matter what the circumstances, the signal light cannot be directly installed on the surface of ordinary combustible materials;
5. Before the installation is complete, be sure to pay attention to waterproof and rainproof to avoid damage to the circuit components;
6. The maintenance or replacement of the lamp can be taken out independently by rotating it counterclockwise. Do not remove it forcibly. Non-professionals are forbidden to operate with electricity;
7. The red, yellow, and green lights on the Traffic Countdown Timer rubbing terminal are respectively red, yellow, and green lights and the black wire represents the neutral wire. The wire end of the wire must be firmly locked with screws, and there must be no looseness;
8. When using our company's signal lights, please do not mix other irrelevant equipment with them to avoid conflicts or malfunctions.
Work Time :
08:00-18:00(Beijing time)
Fax :
+86(755)27651483
Telephone :
+8613927455427(Working time)
Email :
trafficloopdetector@gmail.com
Factory Address :
Mingjinhai Industry Park, Tangtou Road,Shiyan Town, Bao'an District