500 mm Traffic Countdown Timer
500 mm Traffic Countdown Timer
Today, I will introduce a 500 mm Traffic Countdown Timer, which is liked by many countries. Especially it can be used as a reminder function for the countdown at the intersection of the cave or on the driveway.
Let me explain some features of this product first.
1.Using high-brightness Taiwan Epistar chip lamp beads, the color is eye-catching, the color is distinct, and it has good visibility regardless of day and night. Low loss, uniform brightness, standard chromatogram, long life. Compared with traditional light sources (such as incandescent lamps, tungsten halogen lamps), energy saving is about 85%.
2.The detection circuit we designed has isolation and anti-interference functions, which can filter out 120-volt peak interference voltage or leakage voltage. Unique circuit design, through a special optical distribution circuit, the light can achieve a uniform effect. The mixed circuits are interconnected and independent. One lamp bead is damaged and does not affect the operation of other LED lights. The surface of the PCB board is treated with a matte coating to make the traffic signal light shine without interference and high reliability.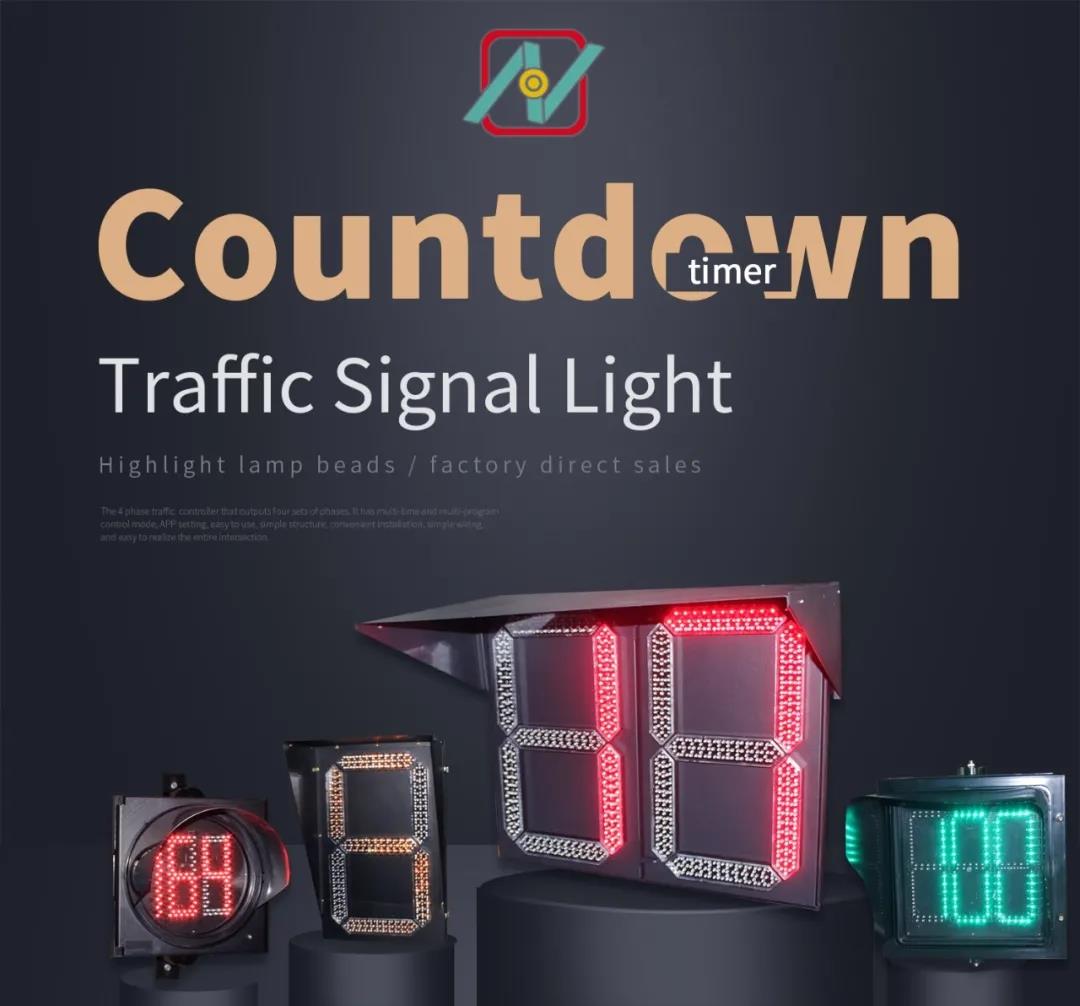 3. NobTra countdown timer adopts microcomputer control technology, which can automatically detect or receive the time of traffic signal lights in real-time. Built-in software and hardware watchdog circuit make it stable and reliable. Using a CPU processor for timing, it can automatically track the on and off time of traffic lights without manual adjustment. When there is an error in the time of the traffic light, the countdown timer can be automatically corrected.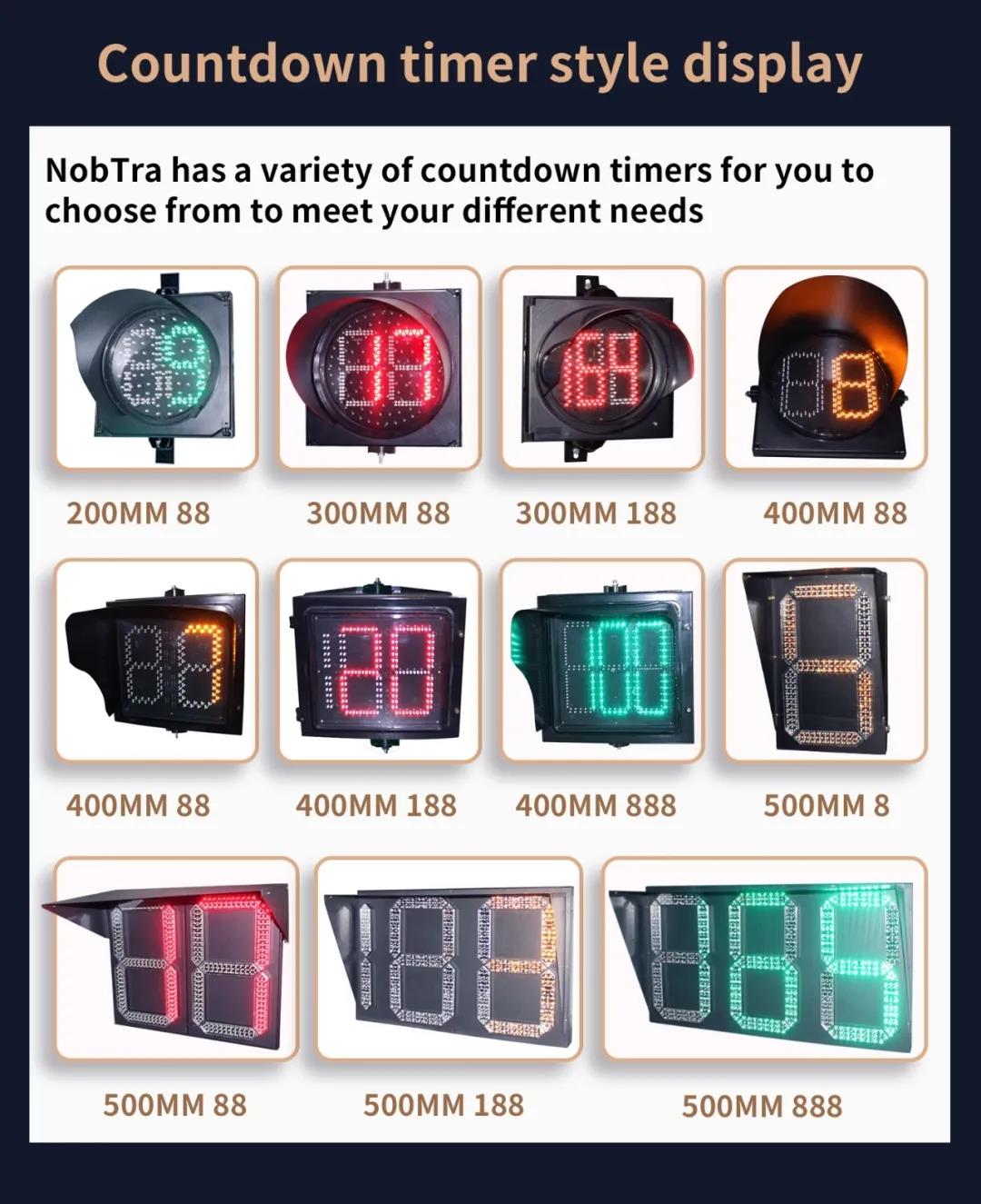 4.NobTra 500 mm Traffic Countdown Timer timer uses Meanwell constant voltage and constant source power supply to ensure stable product quality. Small size, lightweight, low power consumption, stable output voltage, and good resistance to reverse voltage. Adapt to a wide voltage range. 110~220VAC, 12~24VDC can work normally.
5.NobTra countdown timer series traffic lights have a variety of housings to meet the needs of different application scenarios. Among them, the 200MM, 300MM, and 400MM countdown timer shells are made of PC material with lightweight, high hardness, and high flexibility; it is fully sealed with UV-resistant silicone and will not leak water. The whole countdown timer is light in weight and easy to install. The 500 mm Traffic Countdown Timer uses high-quality aluminum profiles, one-time die-cast aluminum, strong and durable, suitable for all kinds of bad weather.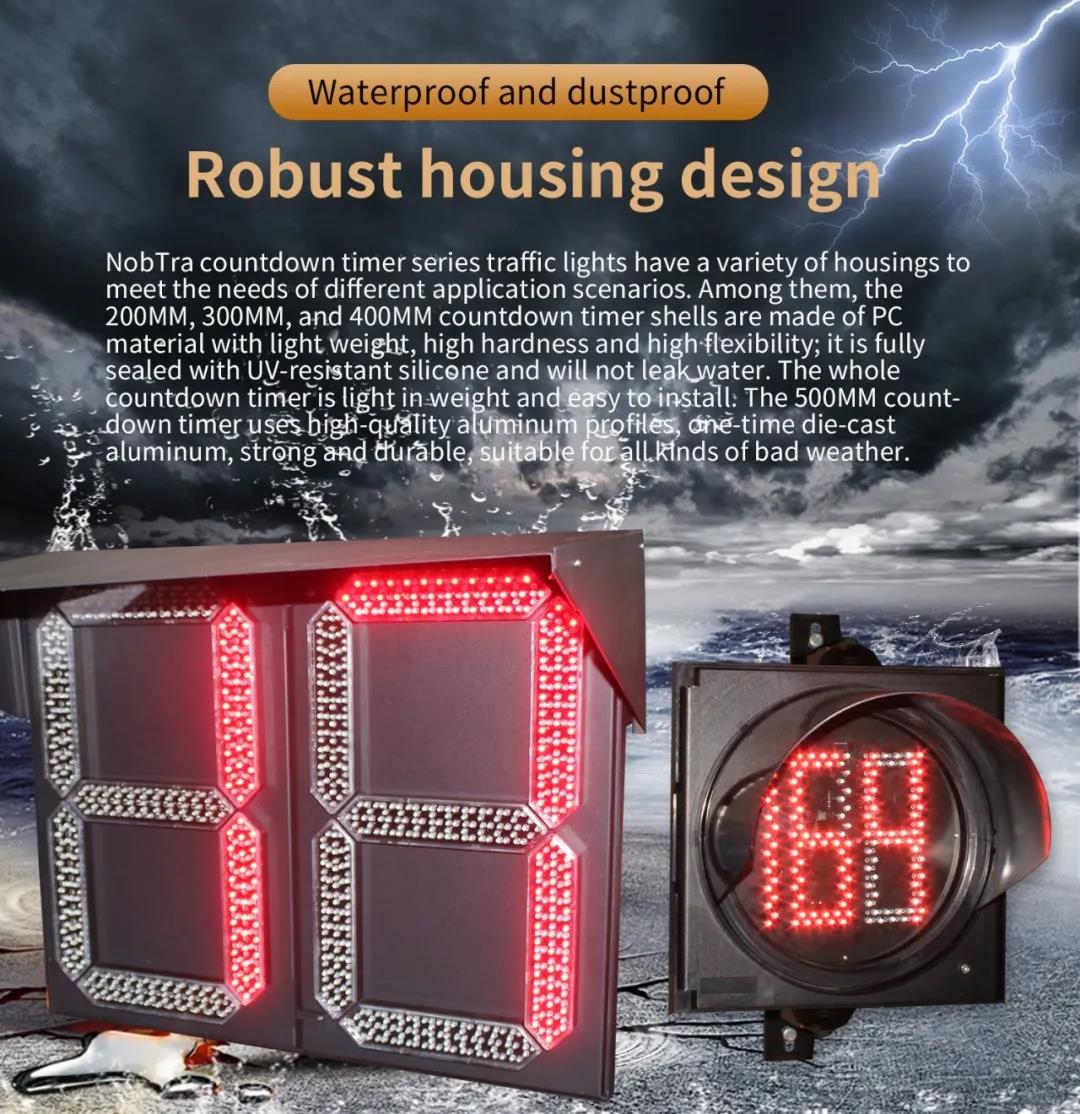 6.The aluminum sunshade avoids direct sunlight to affect the color of light. The high-temperature electrostatic powder spraying process is adopted, which is not rusty and not easy to oxidize. The material is resistant to high temperature, severe cold, deformation, aging, waterproof and moisture-proof.
7.Wide timing range: One-digit countdown timer range is 1-9s;
Two-digit countdown timer timing range 1-99s;
The two-and-a-half countdown timer timing range is 1-199s;
The three-digit countdown timer timing range is 1-999s.
8. Countdown timer combination: countdown timer + arrow lights, countdown timer +full ball traffic lights, countdown timer + pedestrian lights, etc.We can provide OEM, random combinations according to actual intersection or customer requirements.
Work Time :
08:00-18:00(Beijing time)
Fax :
+86(755)27651483
Telephone :
+8613927455427(Working time)
Email :
trafficloopdetector@gmail.com
Factory Address :
Mingjinhai Industry Park, Tangtou Road,Shiyan Town, Bao'an District