Vid Det Cam
Vid Det Cam
Noble Opto traffic detection camera is an integrated video traffic information collection device suitable for outdoor environments. It collects traffic data, detects traffic vehicles, and optimizes traffic signal control systems in highways, tunnels, urban intersections, and sections.
The traffic flow detection camera adopts an advanced product architecture integrating an industrial camera module and a video detection module and integrates image acquisition and video detection technology. The traffic flow collection camera can be installed on the poles such as signal lights or street lights at the intersection, road section, etc., and realizes the collection and monitoring of many 4 lane traffic information. At the same time, it provides high-definition surveillance video all the way.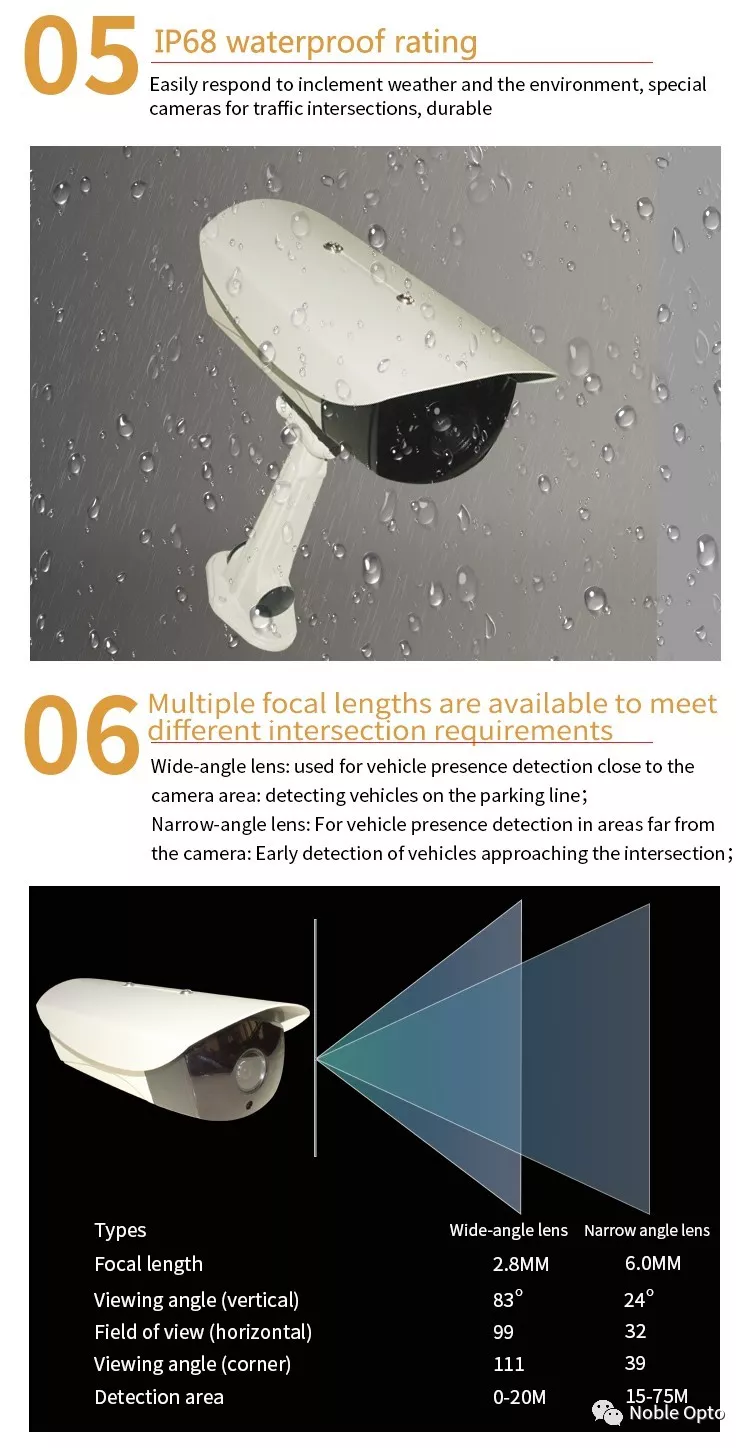 Are you still worried about these problems?
01 The traffic volume is large, the queues are long, and the vehicles are moving slowly.
02 Spend a lot of man-power to divert traffic congestion, high cost, slow effect.
03 Life and property may be affected by traffic jams when urgently needed.
04 Causes the driver to feel angry and irritable, and the time for work is reduced, resulting in economic loss for the driver and the region.
Next, we introduce some specific functions of this Vid Det Cam.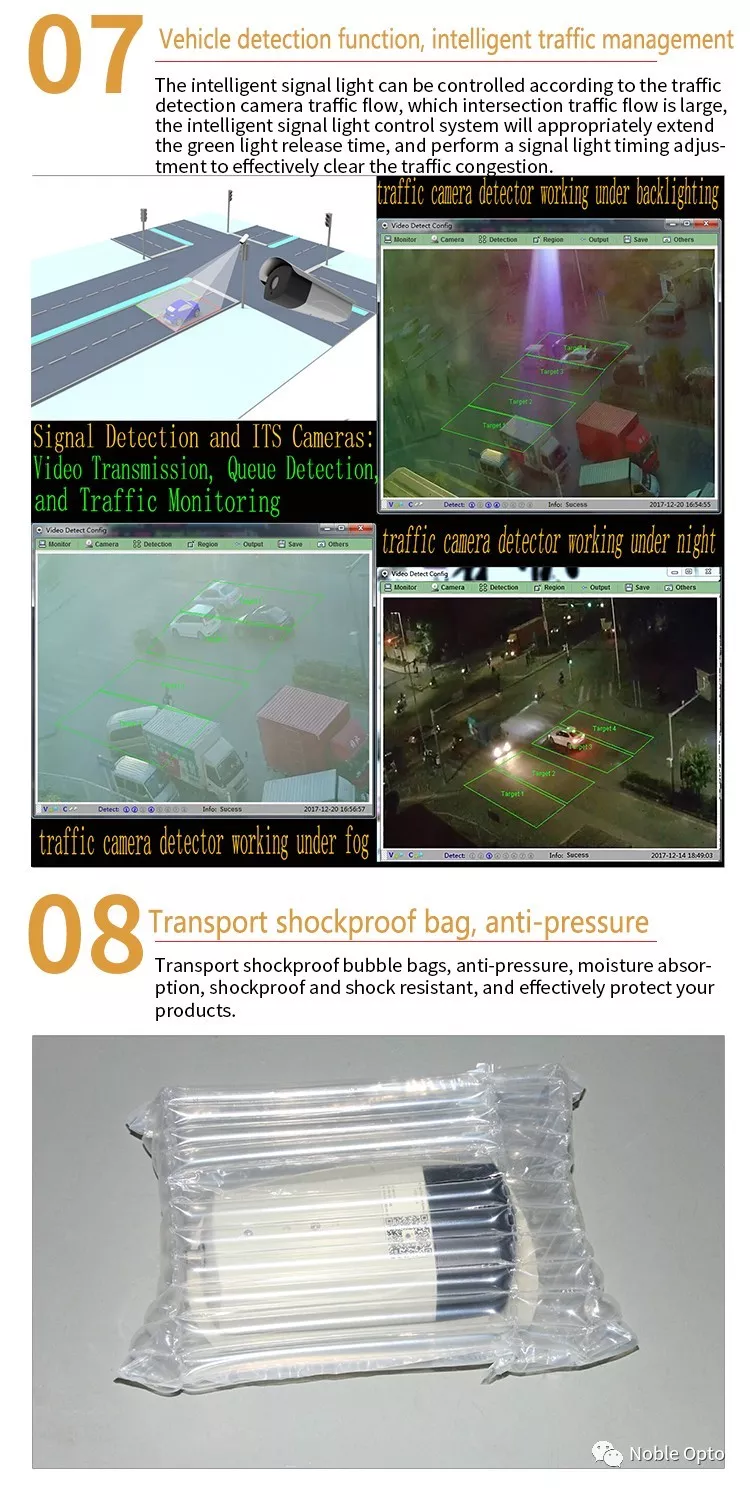 1. Full-color HD lens for day and night
The highest resolution is up to 200 pixels, output real-time images, adaptive day and night.
2.Control Center Real-Time Traffic View
One-click to open the video, support 7*24 hours all-weather non-stop recording, the control center can watch intersection traffic conditions in real-time.
3. H.264 compression encoding, fast storage
Compared to JPEG, H.264 provides faster storage speed, reduces network load, and reduces stuttering.
4.Wireless connection,non-intrusive ground installation
Support 5.8G frequency WIFI, use bridge antenna, a signal is more smooth, wireless transmission of signals, no need to break the road, save labor costs
5.IP68 waterproof rating
Easily respond to inclement weather and the environment, special cameras for traffic intersections, durable
6.Multiple focal lengths are available to meet the different intersection requirements
Wide-angle lens: used for vehicle presence detection close to the Vid Det Cam area: detecting vehicles on the parking line;
Narrow-angle lens: For vehicle presence detection in areas far from the camera: Early detection of vehicles approaching the intersection;
7.Vehicle detection function,intelligent traffic management
The intelligent signal light can be controlled according to the traffic detection camera traffic flow, which intersection traffic flow is large, the intelligent signal light release time, and perform a signal light timing adjustment to effectively clear the traffic congestion.
8.Transport shockproof bag,anti-pressure
Transport shockproof bubble bags,anti-pressure, moisture absorption, shockproof and shock-resistant, and effectively protect your products.
Direct visual verification of the existence of the area TCD series enables you to pinpoint and verify the vehicle presence detection area. As these areas appear on video images, you can easily relocate these areas as traffic conditions change.
Vid Det Cam Benefits:
1.Integration of small size(with camera&controller)
2.Wide dynamic, high sensitivity.
3.Non-intrusive ground installation.
4.Adapted to day and night
5.real-time verification and monitoring
6.Real-time traffic view
Work Time :
08:00-18:00(Beijing time)
Fax :
+86(755)27651483
Telephone :
+8613927455427(Working time)
Email :
trafficloopdetector@gmail.com
Factory Address :
Mingjinhai Industry Park, Tangtou Road,Shiyan Town, Bao'an District